What is Accreditation?: Everything Students Need to Know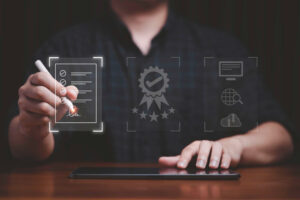 When an aspiring grad student begins to research potential colleges for pursuing educational programs, one of the most important points to consider is accreditation. So what is accreditation, and why is it important?
When a school earns accreditation, it means that the institution has been evaluated by one or more independent accrediting agencies recognized by the U.S Department of Education, and the industry, and found to have gone through a high educational quality assurance process. To be accredited, entire institutions and/or educational offerings must go through a lengthy, in-depth accreditation process, and pass several stringent checks against pre-defined criteria and accreditation standards. This process can often take years to complete. Once accreditation is earned, the school must follow proper steps to keep the standards of their school's programs high and maintain their accreditation status, with regular follow-up checks by the accrediting agency, to ensure the college is meeting all norms and obligations.
Students must comprehend the significance of earning a college diploma from an accredited institution and the dangers of earning a college diploma from an institution that does not accept transfer credits from regionally accredited institutions. For example, a student with an associate degree from a nationally accredited institution may not be able to transfer any credits to a regionally accredited school to count toward a degree.
In a nutshell, accreditation helps ensure that the hard work students put into their higher education will not be in vain; their degree will be recognized as the high-quality education they deserve.
Read on to find out answers to 'what is accreditation?', what the different types of accreditation are, how to determine whether an online master's program or school is accredited, and more.
Different Types of Accreditation
There are two basic types of Postsecondary Accreditation available for schools across the United States – Institutional, which can be broken down into National and Regional Accreditation, and Specialized Accreditation or Programmatic Accreditation.
Institutional Accreditation
Institutional accreditation usually refers to a whole educational institution, showing that all of the sections of the post-secondary institution are contributing to the achievement of the institution's goals, though not all at the same level of quality. This type of accreditation comes in two sub-categories – national, and regional accreditation. Each type of accreditation offers advantages. Regionally accredited educational institutions are generally the best place to go for an academic degree, while nationally accredited ones are a good choice for those looking for a vocational program.
National Accreditation
National accreditation covers higher education institutions across the U.S. However, this accreditation is more for schools that focus on career education, such as vocational schools or technical schools, as well as schools that focus on faith-based programs. Schools that obtain this type of accreditation are often seen as providing a less rigorous higher education than those that receive regional accreditation; therefore, it is quite common that credits earned at nationally accredited institutions will not readily transfer to regionally accredited institutions. That does not mean that nationally accredited schools should be dismissed. Depending upon what a student is seeking in their educational experience, one of these schools might be what they need. For instance, in many cases a nationally accredited school does not require the usual general education courses that one will find in a more traditional school; that means that if the grad student's career goals are very focused, they might be able to get to the finish line faster. The following are national accreditation agencies:
Association for Biblical Higher Education Commission (ABHE)
Association of Institutions of Jewish Studies (AIJS)
Accrediting Bureau of Health Education Schools (ABHES)
Accrediting Council for Independent Colleges and Schools (ACICS)
Distance Education Accrediting Commission (DEAC)
National Accrediting Commission of Career Arts and Sciences (NACCAS)
Regional Accreditation
When a student looks for the accreditation status of a school, regional accreditation is often what they will find. As the most common type of accreditation, this accreditation is awarded by one of several independent accrediting agencies, responsible for colleges and universities within a certain region. Over 85 percent of all colleges in the U.S. hold this form of accreditation through one of the following regional accrediting organizations:
Middle States Association of Colleges and Schools (MSA)
New England Association of Colleges and Schools (NEASC)
North Central Association of Colleges and Schools (NCA)
Northwest Accreditation Commission (NAC)
Southern Association of Colleges and Schools (SACS)
Western Association of Schools and Colleges (WASC)
Programmatic Accreditation
For some master's students, programmatic accreditation will matter just as much as regional accreditation. This type of accreditation is higher education accreditation that focuses on educational programs offered through the school. Specialized accrediting agencies go through a college degree to see if it meets certain guidelines, and is of standing quality. In some cases, attending a program with programmatic accreditation is essential for the graduate to later receive a certification or other work-related credential. There are a host of accreditation agencies in the United States that programmatic accreditation. A few examples of such programmatic accrediting agencies include:
Accreditation Commission for Education in Nursing (ACEN)
American Physical Therapy Association, Commission on Accreditation in Physical Therapy Education (APTA-CAPTE)
American Psychological Association, Commission on Accreditation (APA-CoA)
National Council for Accreditation of Teacher Education (NCATE)
Teacher Education Accreditation Council (TEAC)
Accreditation Board for Engineering and Technology, Inc. (ABET)
---
How to Check for Accreditation
Many professions, particularly those in healthcare, will not allow the candidate to appear for a certification exam unless they have a degree from a recognized institution. This is very dependent on the sector and the state in which the candidate lives, but it is worth investigating whether a particular program is an accredited program or an unaccredited program, before enrolling. Another crucial decision prospective students will make is which college to attend. For these and other reasons illustrated in this guide, it is always advisable to attend a school that meets the expected educational quality, and all accreditation requirements, so that they may feel assured that their education fulfills certain academic criteria and will be recognized by the job market.
Prospective students considering a program or school (especially law schools and vocational schools) but who are not sure if it is accredited, have a few ways to find out if a school is accredited, and which accrediting agency it is associated with. Many educational institutions are proud of their accreditation status and will have a page on their website that points it out. Other schools will include it on their "About Us" page.
Even if a school or program touts their higher education accreditation, students should double-check the accreditation before applying. This can be accomplished by reviewing the college through the following sites online:
The U.S Department of Education The United States Department of Education maintains a list of accredited educational institutions. Grad students can browse through the list or use the search function to look up a specific school and the recognized accrediting agency, along with relevant education statistics. The U.S Department of Education also maintains a list of which accrediting body or accrediting agency is authorized to confer accreditation.
The Council for Higher Education Accreditation The Council for Higher Education Accreditation is also a great resource for those seeking information about the accreditation process and accrediting organizations.
Prospective students can also call the school directly and ask for information on the institutional accreditation.
Note: Students must always check individual school policies, especially if they plan to transfer schools later on in their educational journey and check for the latest accreditation status on the U.S Department of Education database.
---
Top 4 Reasons Accreditation is Important to Master's Degrees
Why does post-secondary accreditation matter so much? Besides the points about it being vitally important to ensure a top-notch education, accreditation status means a great deal for the following reasons:
Financial Aid
In the vast majority of cases, financial aid, and in particular federal student aid, is only awarded to those who choose to attend an institution with recognized accreditation and accredited programs. This gets a little trickier when it comes to nationally accredited schools, as some states might offer financial aid for those schools, but the federal government might not. In general, prospective students who do not attend an accredited educational institution that is properly accredited, will not be eligible for federal financial aid and will have to pay out of their pockets or take out student loans.
School Transfers
If a student intends to transfer schools anytime in the future, it is important to ensure that their undergraduate or graduate school is accredited by recognized accrediting agencies. This is because colleges will only accept academic credits from accredited colleges and universities; credits do not transfer from unaccredited schools. If a master's student attends an unaccredited school (and in most cases, a nationally accredited school) for their online master's program and later wants to move to a Ph.D. program at a different school, they might fall short of transfer credits to do so.
Certifications
Certifications are very important and often necessary in certain work settings, such as to teach, treat patients as a psychologist or nurse, or work in any other profession that requires proof of graduation from academic institutions with accreditation. In such cases, students who have graduated from an unaccredited institution will generally not qualify to sit for any examination that will provide them with a certification or professional licensure, and consequently allow them to practice in their chosen field.
Employment opportunities
Even in a field where certification or licensing is not required, an employer might require that an applicant graduated from accredit schools before they will hire them. They want to ensure that the diploma the applicant earned prepared them well for the job, and no employer can be certain of that unless the degree came from an accredited school.
---
What is Accreditation? – Wrapped Up
Conclusively, accreditation is a quality assurance process that culminates in a seal of approval – for meeting all set standards. While certain accrediting agencies may look for granular details of an institution, other accreditation agencies may take a broader approach. Overall, a school or program must be accredited, and equally important is which type of accrediting body is associated with it – a regional accreditor or an accreditation agency that accredits schools programmatically.
Before choosing a school or enrolling in a program, students should always visit the U.S Department of Education website and check to see which accrediting agency has conferred accreditation. A list of accrediting agencies is also available to peruse.
Important: Students should be careful not to fall prey to fake accrediting agencies. More information on these is available through the department of education.